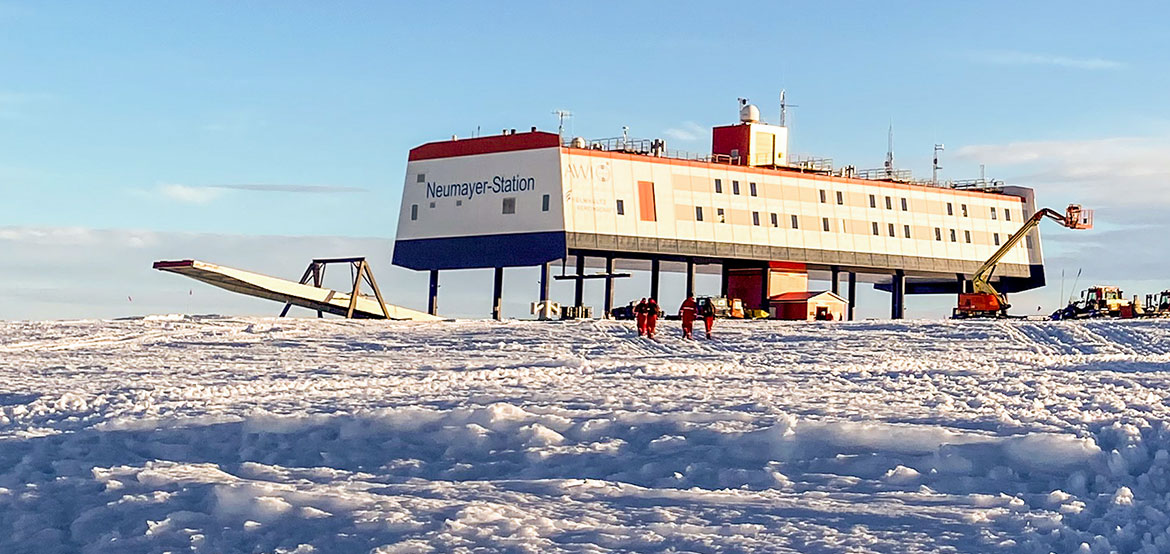 Buchele GmbH manufactures custom made constructions for challenging environment
---
Custom made doors for the Antarctica
For the Neumayer-Station III in the Antarctica the Buchele GmbH of Ebersbach near Goeppingen implemented a remarkable poject: The expert for special doors and gates that also meet highest requirements even in inhostible areas designed and installed two custom made steel constructions with integrated seal heating and hydraulic drives. These constructions resist wind loads up to 63 meters per second and temperatures up to -40 ° Celcius under most unfavourable conditions.
High test efforts to guarantee the quality
In order to avoid snow drifting in the doors were constructed so that an air permeability up to class LD3 – tested in accordance with DIN EN 1206 – is guaranteed. At the same time the doors can still be opened with the special hydraulic drive during a severe storm with windloads up to 27 meters per second. "The major challenge was that it was not possible to make any adjustments or rework on site", says Boris Brodbeck, project manager at Buchele. "The project was prepared with utmost care". To ensure that the door construction will meet the requirements a replica of he door construction was manufactured for test purposes. Before the goods were prepared for shipment the doors were once completely assembled and mounted. Brodbeck explains: " Test efforts were high but necessary". This way we could ensure that the installation in the Antarctica will be trouble-free and the doors will fulfill their purpose".
Difficult weather conditions reduced the stay
The persons involved in the project were personally briefed for their stay in the Antarctica. The briefing took place at the Alfred-Wegener-Institute, Helmholtz-Center for Polar and Marine research in Bremerhaven. " At the briefing they mentioned that turbulences may occur throughout the journey", says Boris Brodbeck. Actually, when they travelled to the Antarctica the weather conditions were so bad that the team had to stay in Cape Town for one week. The visit planned for three weeks ended in a two week stay. Due to the outstanding preparation and the long-term experience of the team all works could be completed in reduced time.
A lot of experience with challenging environments
The Neumayer-Station III is already the third research institution in the Antarctica for which Buchele GmbH has supplied large doors. "We already supplied doors for the Indian station "Bharati" and the Brazilian Station "Estação Antártica Comandante Ferraz" and we are pleased that the Alfred-Wegener-Institute, that runs the Neumayer-Station III trusts in our expertise", managing director Juergen Buchele explains. There are further projects that the expert for fire proof, sound insulation and burglary proof doors as well as custom made doors implements in challenging environments such as Dubai or the North Sea.